I'm a big fan of the (unfortunately canceled) TV show Firefly. So I made some T-shirts with quotes from the show.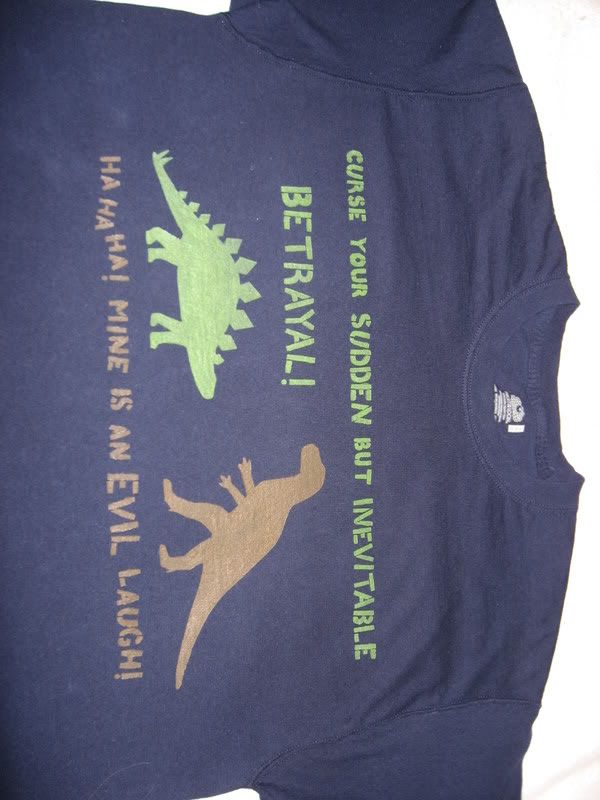 When you first meet Wash, the pilot of the spaceship Serenity, he's playing with plastic dinosaurs. This is one of the more hilarious bits of that exchange.
I gave this shirt away (it was part of a craft swap on
Craftster
), so of course I had to make another Firefly shirt for myself.
This is probably my very favorite quote from the whole series. Since River Tam is the one who said it, I put her on the back:
That's her silhouette from the Serenity DVD cover art. (Serenity is the movie sequel to the TV show.)
Both of these shirts were made using the freezer paper stencil technique. If you are unfamiliar with the process, it goes like this:
1. Draw your design on the papery side of a sheet of freezer paper. (The Wash shirt was freehand, but I traced the River shirt because I wanted to use a particular font and also I am not especially good at drawing people.)
2. Cut out your design with a craft knife, making sure to save any loose bits that might be necessary (the inside of the letter "o," for example).
3. Arrange the freezer paper on your shirt shiny side down.
4. Iron it. The freezer paper should bond to the fabric.
5. When your stencil is secure (pay attention to the edges in particular), put cardboard inside the shirt so your paint doesn't bleed through, then, using a sponge or stiff paintbrush, apply a thin layer of fabric paint or screen printing ink or what-have-you. (I used acrylic paint mixed with fabric medium.) Use an up-and-down dabbing motion rather than brushing on the paint, because it's less likely to get under the stencil that way.
6. Apply as many coats as you feel are necessary, letting each one dry completely before you do the next.
7. When the final coat is dry, carefully peel away the freezer paper. You can't use the stencil again, but I like to save mine and tape them to my wall because I'm weird like that.
8. Strut around town in your shiny new shirt.